Welcome to Paw In Order
Dog Boarding and Daycare in Orange County!
Welcome to Paw In Order
Dog Boarding and Daycare in Orange County!
All dogs enjoy their own spacious run, Kuranda bed, and a discounted bath!
We have full service grooming available by ​appointment only.
Our dog training is based on positive interaction and consistency.
Don't leave your dog home alone all day when you can bring them to day care at Paw In Order to make new friends, exercise, and have a blast!
We have a customer loyalty club that gives discounts, giveaways, and free services for our frequent clients.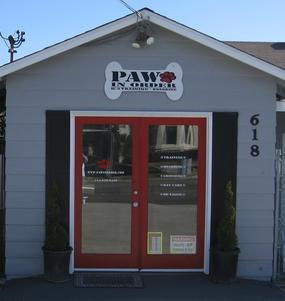 Paw in Order is a privately-owned residential dog boarding facility in Orange, CA. We're a full-service canine facility that offers 24-hour supervision boarding, daily daycare, private grooming, and training services for dogs of all ages, temperaments and breeds.
At Paw in Order, we understand that leaving your dog in the care of someone else is difficult, so we make it as easy as possible! We want your dog's stay to be a pleasant and enjoyable experience, and strive to create a home away from home oasis for them to enjoy while they're in our care.
Your dog's comfort and safety are our top priorities. That's why we get to know each dog individually and provide for their needs according to their personality. This includes play time, socialization, and companionship. Rather than fit your dog into our schedule, we fit our schedule around your dog's comfortability level and personality traits.

This is absolutely the best place to take my dog Buster. He is a rescue and does not do well with other people let alone other animals. Given his anxiety and social distrust it amazes me how well they handle him at Paw In Order. Modern day "Dog Whisperers!" They're able to bathe him and take great care of him given his special needs. I always rest easy knowing Buster is in good hands when I'm away for a weekend or vacation.
-M. O'Rielly

Brittany takes amazing care of my dog, Jonas. He always has a great time and I feel safe leaving him with her.
-E. Brenner

Kiki can't get out of the car fast enough to come inside. Then she jumps on the door like "I see you in there!". She always has fun there and comes home happy!
-M. Munoz